Bandai's Tamashii Nations team has done it again with the new S.H. Figuarts young Naruto figure. Officially titled, Naruto Uzumaki – The No.1 Most Unpredictable Ninja, this figure will trigger so much nostalgia for fans of the anime.
Bandai is bringing back the OG Naruto with this release. They also have kid Sasuke and Orochimaru on deck next.
This one's a banger that'll look great in your collection and make all the homies jealous. We'll dive into the details below.
Details
First of all this action figure stays true to the source material. For the most part the paint is on point. The classic orange and navy blue are instantly recognizable with the nine tails jinchūriki.
There are some joints with lighter orange that kind of throw things off. There's also some shading in the left leg that only makes sense in certain positions but that's just a minor gripe.
Naruto does have that thing hanging from his shoulder. To this day I don't know if the fandom knows what that is.
He also has a rotating ninja tool pouch that is attached to his belt by a peg. There's also a kunai holster.
At the 1:12 scale, Naruto comes in at 5.3″. You have to remember he was only 12 in part 1 of the anime and manga.
Accessories
Kid Naruto does come with a ton of accessories which is great to see at this price point. The figure comes with 4 extra faces including the jinchūriki mode. The sculpt on the faces is phenomenal. There are seven different hands, and you also get a rasengan effect piece and kunai.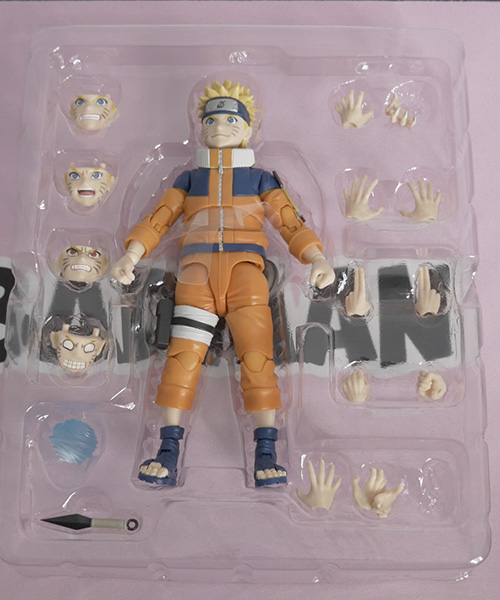 Articulation
Like a lot of newer SHF figures the new kid naruto is highly posable. The articulation is pretty great.
One thing you notice right away is that the bottom of his jacket is a separate floating piece like in the latest Shippuuden Naruto figure. This allows for full range in the ab crunch and hip swivel. People were complaining that it made Naruto look like he had too much ramen but I think it's fine.
The butterfly and double ball joints allow for nice range of motion when crossing the arms for different poses. There was also a lots of articulation in the ankles and feet.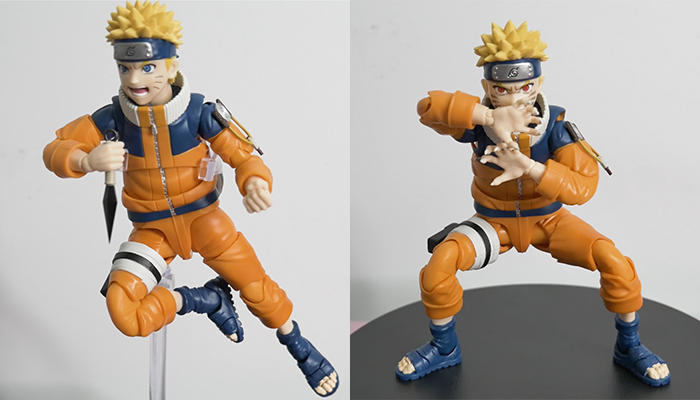 The only downside is in the neck joint or head piece. I wish the head could come up higher to allow for more kyubi style poses with Naruto on all fours, but the hair/collar gets in the way.
I was able to get him into a lot of classic poses like the shadow clone jutsu and the Naruto run, but I couldn't get the fig into the those feral kyubi mode poses.
Price Availability
With an MSRP of $35 this is must buy. Heck you could buy a second to use for shadow clones. I think the quality and accessories you get for this price can't be beat.
The figure releases July 30, 2023 for North America, but you can already get it early in Japan where the release date was May 27, 2023.
Overall I think is a great fig that fans will love.