Kayou Naruto cards are relatively new, but the artwork on them is pretty cool. Here is the ultimate guide with everything you need to know.
Disclosure: Please note that this site contains affiliate links, which means that if you make a purchase through one of these links, we may receive a small commission. Thank you for supporting!
Is There a full list of Cards?
To see the full list of cards and which box to find them in check out the Naruto Kayou English Database.
What are the Kayou Naruto card rarities?
Kayou Naruto Card rarity tier list in ranked order from least to most rare:
* Bold indicates tier-exclusive. Click to go to each tier.
Promotional type rares included in certain products:
Where Do You Buy Kayou Boxes & Packs?
If you can't go to Toys R Us China, your best bet is to buy them on AliExpress. How long do Ali Express orders take to ship? It depends on where you live. These boxes can take 2-5 weeks to arrive, but the price can't be beat.
Another good option is to check out an app called Whatnot. The Whatnot app allows sellers to list singles, packs, and even booster boxes to sell in auctions. Sellers can even rip open packs for you live on their streams. This invite link will give you a $15 credit when you sign up and make your first purchase.
If you're like me and you can't wait, try checking for Naruto cards on amazon or booster boxes on eBay. They cost a bit more but ship fast with prime so you can rip packs ASAP.
What is the Best Kayou Booster Box?
The best Kayou Naruto booster box has to be the tier 4 boxes because of the highest pull rates and rarest cards.
If you're just starting out the tier 2.5 cloud boxes are fun to open with 50 packs in the box and some good pull rates.
Booster boxes go from tier 1-4 with the first tier having the least hits and the fourth having the most amount of hits per box. Remember that UR and up are considered hits.
The sets came out in 5 different waves, and starting with wave 2 each tier got their own exclusive rarities.
Tier 1
Each Tier 1 booster box comes with 36 of the 1 yuan packs. There's not much to say about these except that the chances of getting a hit are lower than the other tiers.
The R rarity isn't holo in Tier 1 either. GP is exclusive to tier 1 starting in wave 2.
Tier 2
Tier 2 boxes come with 30 of the 2 yuan booster packs. Every tier 2 pack comes with four R-rarity cards and one SR or higher.
Starting in wave 4 these packs have the chance of pulling ZR kayou cards. In wave 2 and up there's a chance at the CR rarity.
Tier 2.5
Tier 2.5 is a special tier with only one box that's also called the Itachi cloud box. There are 50 packs inside and each pack has a chance at pulling a gold CP. It's worth it if you're hunting the exclusive CP cards.
Tier 3
Tier 3 booster boxes are nice for the price. They come with 20 of the 5-yuan packs and good chances at hits. Each pack comes with a see-through TR or TGR card with chibi artwork, two Rs, one SR, and an SSR or better.
The rainbow NR cards can only be pulled from tier 3 starting at wave 2. I've personally pulled SP and MR rarities from tier 3, so I think they're pretty good.
Tier 4
The tier 4 booster boxes are by far the best boxes to buy. They come with only 18 of the 10-yuan booster packs, but every other pack has at least an SSR. This tier also comes in the slim "SL" box and the 36-pack mega SL box.
Each pack comes with a tier-exclusive hologram HR card, two Rs, an SR, and an SSR or higher.
Starting at wave 2, you also have a chance at pulling a BP which is exclusive to tier 4. There's also a chance at pulling the rainbow SLR cards which are exclusive to only tier 4 and EX packs.
The first run of T4W4 included SE cards, which are panoramic pairs that were limited to 777 each. Since SEs are so limited they can fetch significant value on the secondary market. There are sales in $300+ range depending on the card.
The second printing of T4W4 is also the only way to pull the special 20th anniversary promo card featuring the 7th Hokage Naruto and childhood Naruto.
The new T4W5 box also comes with a chance at pulling serialized SEs. Jiraiya (SE-008) & Naruto (SE-007) limited to 199, Sasuke (SE-009) & Itachi (SE-010) to 699, and Tsunade (SE-011) & Sakura (SE-012) to 999. These numbered cards can fetch even more value than previous SEs due to scarcity.
Do Tier 4 boxes come sealed? Unlike other tiers, tier 4 boxes don't come shrink wrapped. Instead they come with two sticker seals on each side.
EX (Rainbow) Packs
These EX packs only come loose and not in booster boxes. The pull rates are good and you can get rainbow SLRs from them.
They're essentially tier 4 packs, but each comes with the chance to pull an exclusive SP. Wave four or EX4 also give you a chance to pull the SE cards.
Specialty Products
Youth Scroll
The Kayou Scroll of Youth specialty set is the ultimate collectors item for Naruto fans.
It includes two branded "brick" slabs to hold two Boruto and Naruto SCR promo cards. It also comes with two special encased Boruto and Naruto coins, sleeves, an art print, and three packs.
The packs include one guaranteed SP card and a chance at a hokage BP card or a CR rare.
Heaven & Earth Gift Scroll
The 11.11 Heaven and Earth Scroll from Kayou contains one branded "brick" slab to hold your favorite card. The gift set comes with one guaranteed SP card. It also comes with two special packs with one guaranteed special SV card.
In one of the special packs is a chance to pull a gold SV chase card.
New Years Gift Box
This new collection box celebrates new years with themed exclusives and even red money envelopes for the holiday.
Each box comes with an exclusive coin card, calendar cards and stand, 2 new years themed SE cards, and 2 card bricks.
You also get 3 packs with gold or silver SV, SP, AR, UR, and HR rares.
Badge Pin Blind Box Case
Each case of badge pins come with 12 blind boxes and each box comes with a metal pin and one sleeved BR card.
There are 16 total BRs to collect: 12 common and 4 to chase. Sage mode Naruto, Jiraiya, Tsunade, and Orochimaru are the chase cards.
In each box of 12 you get 11 common and one chase BR.
20th Anniversary Badges
The latest addition to the Naruto Kayou line are these 20th anniversary badges.
Each box comes with 6 blind bag packs. There are 48 different metal badges to collect including some with chibi style art.
How Many Booster Boxes are in a Case?
Wholesale cases come in different sizes depending on the tier and type of case. There are regular cases and you can also get master cases which have to regular cases inside.
For tiers 1, 2, and 3 a regular sealed case has 24 boxes and a master case 48 booster boxes.
Tier 4 cases come with 18 booster boxes and master cases have 36 booster boxes.
Buying sealed cases increases your chances of pulling big hits. It minimizes the chances of boxes being searched. They also come tightly packaged in boxes so there's less damage to the boxes in shipping.
Sealed cases are harder to find outside of China but it can be done if you make relationships with distributors. You can also try the Alibaba network.
UPDATE: May 2023. Cases are now back in stock on AliExpress.
Get Kayou Cases here (Tier 1, 2, 2.5, 3, 4, & Gift boxes).
Or try this alternate link for Tiers 1,2,3,4.
Are Kayou cards official?
There is a lot of contention on whether or not Kayou are official Naruto cards, and the answer is they are legit… in China. The cards are manufactured by Kayou and are officially licensed by Pierrot China, the studio that owns the licenses to Naruto and other anime.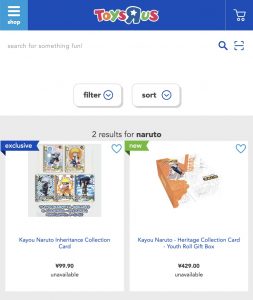 Can you grade Kayou cards?
PSA does not grade Kayou cards. Beckett was grading Kayou Naruto but has recently stopped accepting them.
Right now your best bet is to use Mana Grading in the US. Use the code CAPSULE at checkout for 20% off your order.
If you're in Canada, use MNT to slab up your cards.
When submitting your cards you use Kayou as the company name, Naruto TCG as the Set. If you don't know the player name you can look them up in the card database list.
If you're interested in buying graded cards there are some sellers who sell CCG graded slabs.
How to Protect Your Naruto Cards
You just spent your hard-earned cash on these collectibles. The last thing you want is to dent them up. There are a few different ways to protect your cards.
Personally I like to use KMC Perfect size inner sleeves for kayou. This makes it easy to slide into a binder collection, outer sleeves, or top loaders.
For ungraded cards that I want to display, I like using one-touch magnetic holders. They're premium and look fire on your desk or display shelf.
Kayou Card Dimensions
Naruto cards are have a 62mm wide and 86mm long. That's about 2 7/16″ x 3 3/8″ which is slightly smaller than Pokemon cards.
How Many Naruto Kayou Cards Are There?
Including all rarities and new promos there are over 1250 total cards to collect.
Before You Go
If you found this guide helpful at all please consider sharing it. Also check out these posts next.