Lorcana is Disney and Ravensburger's highly anticipated trading card game. The game promises to let players build decks around their favorite characters and villains and battle it out.
When is the Disney Lorcana Release Date?
Lorcana's first set, The First Chapter, drops in retail stores September 1, 2023, but there's a way to get the cards sooner.
If your local game store (LGS) stocks Disney Lorcana you might be able to find it on August 18, two weeks earlier than retail. If you're at Gen Con this year you also have a chance to pick up some early product.
Some lucky fans got a free Mickey card and the chance to purchase a six-card promotional pack with Captain Hook, Cruella De Vil, Elsa, Robin Hood, Stitch, and Maleficent at the D23 convention in 2022.
The Second Chapter will release November 17, 2023 in local game stores and December 1st in retail stores.
What are the Lorcana Rarities?
Here are the rarities so far:
common (grey circle)
uncommon (white book)
rare (bronze triangle)
super rare (silver diamond)
legendary (gold pentagon)
enchanted (rainbow hexagon)
Look at the rarity symbol at the bottom of the card to determine its rarity.
What are Enchanted Cards?
Enchanted cards are the rarest cards in the Lorcana card game. They are identified by the rainbow hexagon symbol at the bottom of the card. Enchanted cards also feature a unique "inkwash" foiling pattern and alternative art.
What Products Will be Available?
Booster Boxes
A display case of booster packs.
How much will Lorcana packs cost? Single booster packs are priced at $5.99 MSRP each.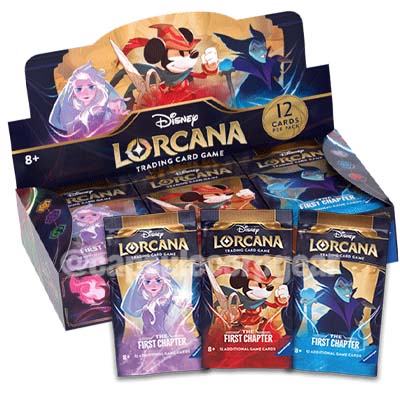 Illumineer's Trove
The Illumineer's trove is a lot like an elite trainer box.
It includes 8 booster packs, a full-art storage box, 2 deck boxes, 15 game tokens and a premium 50+ page visual guide.
The MSRP for the Illumineer's trove is $49.99. This is actually a great value considering the price of booster packs.
The First Chapter Gift Set
This Lorcana gift set includes Hades and Mulan oversized foil cards, playable foil cards, 34 game tokens and 4 booster packs.
The MSRP for the First Chapter Gift Set is $29.99.
Starter Decks
The game will start out with 3 different preconstructed starter decks: Moana and Mickey in Amber and Amethyst, Cruella and Aladdin in Emerald and Ruby, and Cinderella and Simba in Sapphire and Steel.
Each starter deck has 60 cards including 2 foil cards, 11 game tokens, a rulebook, and a booster pack.
The MSRP for starter decks is $16.99.
How Many Cards in Disney Lorcana Booster Packs?
Each pack comes with 12 cards with 1 foil, 6 common, 3, uncommon and 2 hit slots with a chance at pulling rare, super rare, or legendary.
Can You Grade Lorcana Cards?
Yes! PSA and BGS both grade Lorcana. There are already slabs available on the secondary market.
In Which Countries Will Lorcana be Released?
At launch, Lorcan will be in the following countries: United States, Canada, United Kingdom, France, Germany, Switzerland, Austria, Belgium, The Netherlands, and Luxembourg.