My Hero Academia: Two Heroes takes place in between seasons 1 and 2, but is it canon to the manga and/or anime? The movie is kind of canon. It's pseudo-canon and I'll explain below. Big spoiler alert ahead if you haven't seen the movie.
Boku no Hero Creator Interview
In an interview in the Toho Cinematic T Magazine, BNHA creator, Kohei Horikoshi stated that Two Heroes does connect to the overall story. Here's the quote from the interview:
"I always wanted to include a chapter about All Might's past, or rather, I thought that I definitely need to write about his past. In the movie, the young All Might is shown studying abroad in America, and I thought this might not be something that could be brought up anymore in the actual manga story up until now, so I saw the movie as a chance to present this."


"Of course, without a doubt, the movie and manga are adjoined, and the movie is connected to the manga story that happens after it."

Kohei Horikoshi, interview Toho Cinematic T Magazine
All Might's Backstory
At the end of the All Might: Rising one-shot manga, we see a young All Might leave Japan for America to escape All For One. The beginning of the movie takes place a little after this. In the movie, we see some of All Might's backstory during his time abroad in America where he becomes good friends with David Shield.
All Might's relationship with David and time in America are canon. This is what Horikoshi was referring to in the interview.
Are the Film Characters Canon?
Later on in the movie, some of Class 1-A go to America during their summer break. We're introduced to Melissa Shield, David's daughter. She instantly makes a connection with Izuku Midoriya. It's clear that the Shields play a pretty significant part in Two Heroes.
Without giving away too much, the events in the movie are pretty significant. You'd think that the students of Class 1-A would talk about what happened over their summer break, but we don't hear a thing about it in the manga or anime.
Melissa and David exist in the BNHA universe, but their relationships with other characters are unclear. We see them appear in Volume Origin, All Might's origin story. We can't tell if they've connected with Izuku unless they're referenced in the anime.
They do appear in Special Episode: Save the World with Love, a season 3 episode that sets up the movie, but it's not clear if the episode is canon. It's not manga canon, but could be anime canon. It just gets more confusing.
What About the Full Gauntlet?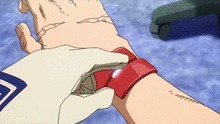 We see Melissa give Izuku the full gauntlet, as support item that allows him to use 100% power. The full gauntlet is conveniently destroyed before the movie ends, so we never see or hear of it again in the manga. It's plausible that it existed, but we won't know until it's referenced.
Now's your chance to add the My Hero Academia movie to your Blu-ray or DVD collection.
It's a must-have even if you watched the film in theatres.
There are definitely parts of the film like the history that could be considered canon. It's just not as clear. What do you think? Is My Hero Academia: Two Heroes Canon?
Also check out our writeups on Deku's Mall T-Shirt and the UA Academy Uniforms.
Sources