Dragon Ball Z: Kakarot is an upcoming game for Xbox One, PS4, and PC by Bandai slated for a January 2020 release (January 16 for Japan and January 17 for western fans). It was secretly developed under the code name Dragon Ball Game: Project Z. Unlike recent DBZ games, Kakarot is an action-RPG that follows Goku's story.
Disclosure: Please note that this site contains affiliate links, which means that if you make a purchase through one of these links, we may receive a small commission. Thank you for supporting!
In early 2019, Bandai teased the release of DBZ: Kakarot. At the time they called it Dragon Ball Game Project Z. They noted that the action-RPG was being developed by CyberConnect2, the same studio behind the Naruto Shippuden games.
In the E3 2019 trailer, Bandai teased that the story for the game would include the Saiyan saga, Frieza saga, Cell saga, and Buu saga. The gameplay footage also showed a 3D fighting system that was similar to Xenoverse.

Amazon.com

Amazon.com
Last updated on Sun, 10 Dec 2023 18:59:12
When does DBZ: Kakarot come out? Can I pre-order the game?
The release date for Dragon Ball Z: Kakarot is slated for a January 17, 2020 release date in the US and a January 16, 2020 release date in Japan. It is available for pre-order online here for PS4 and here for Xbox One. If you know you're getting the game, pre-ordering now will save you some money.
What Is the Pre-Order Bonus?
There are four different versions of the game and pre-orders come with a special sub-quest called "A Competitive Party with Friends," early access to Bonyu's training, and a special cooking boost item.
Standard Edition
This is the standard edition of the game.
Deluxe Edition
The Deluxe Edition ($84.99) comes with a Season Pass for additional story DLC and a music pack with songs from the anime.
Ultimate Edition
The Ultimate Edition ($94.00) comes with everything from the Deluxe Edition and the Tao Pai Pai Pillar, an exclusive in-game item.
Collector's Edition
The Collector's Edition ($199.99) features the standard edition plus an exclusive steelbook case featuring Goku's symbol, a hardcover game artbook, and an exclusive diorama figure featuring, Goku and Gohan riding the nimbus.
What is the Gameplay Like?
Another new thing in this game is the open world with Bandai teasing that players will be able to "fight, fish, eat, and train with Goku."
Fight Gameplay
Gamespot got access to the game and released the following footage of Goku fighting Raditz in a boss fight. The video shows the controls including super attacks and support attacks. The video also showed music from the original anime OST.
Are There More Playable Characters?
It was revealed in an issue of V-Jump that, along with Goku, Piccolo, Gohan, future Trunks, and Vegeta will all be playable characters.
Krillin, Yamcha, Tien, and Chiaotzu have been confirmed as support characters.
How Far Does the Game Go?
Although not officially announced by Bandai, the game is confirmed to go to the Buu saga.
In an interview with twinfinite, Game Director for DBZ: Kakarot, Ryosuke Hara only said that the game would at least go until the Namek saga. He could not confirm if the game would go further into the story because things were still pretty hush-hush.
He confirmed that fishing and eating would help level Goku up.
So things like Kaio-ken, Super Saiyan, things like that will be unlocked as you progress through the story. But there are other ways that you can progress the characters and level up the character; one of those will be experience. You can also eat food, you can feed Goku or the characters food, and that will have an influence on the stats of the character.

You can also go into training and train different skills, and that will enhance the player.

Ryosuke Hara, Game Director CyberConnect2
Hara also confirmed that side quests, where Goku could interact with NPCs such as Eighter, would play a role in the game.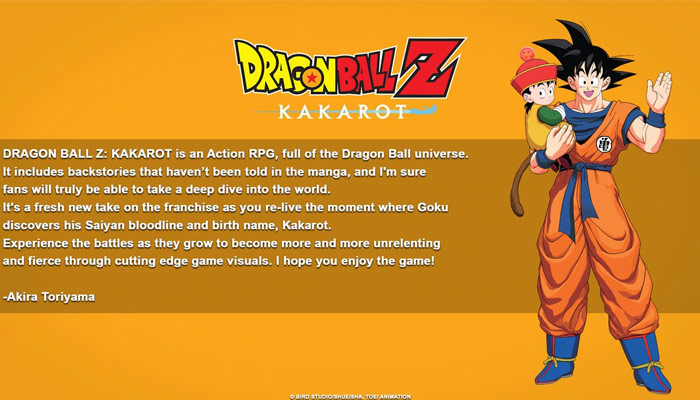 The man himself, Akira Toriyama, stated that the game would include new backstories that have never been shown in the manga. We can expect to see some interesting elements from side characters that we haven't seen before.
It was announced in V-Jump that the game would go at least up to the Cell saga. Kid Gohan and future Trunks would be playable. Filler content such as Goku and Piccolo in driving school was also announced.
In an interview with comicbook.com, Sean Schemmel the Goku voice actor for the English dub, confirmed that the game would also include the Buu saga.
I'm really looking forward to checking this game, and I know that fans are too.
Sources