The Capsule Corporation is the biggest tech company in the DBZ world. They're famous for creating DynoCaps, little capsules that you click to expand into everyday items such as a motorcycle or flying car.
We see the logos every in Dragon Ball, so it's no wonder why fans want to wear apparel with the same logo.
Disclosure: Please note that this site contains affiliate links, which means that if you make a purchase through one of these links, we may receive a small commission. Thank you for supporting!
Capsule Corp Jacket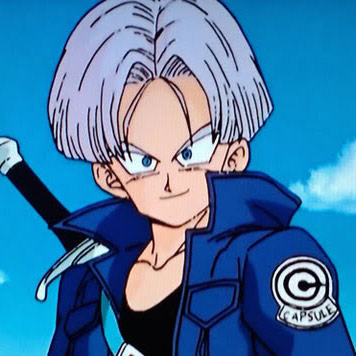 Future Trunks' leather Capsule Corp logo is an iconic piece of apparel for DBZ fans. It's one that's seen in a lot of cosplays. I think it's partly because Trunks was such as badass when he pulled up on Frieza with his sword.
Trunks Leather Jacket
Amazon Auto Links: PAAPIError: InvalidParameterValue: The ItemId B07HL9QYGM provided in the request is invalid.
If you have a couple extra zeni and want a legit looking replica, then check out Trunks Leather Jacket.
This jacket comes in either real leather or vegan leather, and will step up your cosplay game. Even the length is right. Fun fact: The jacket was short on Trunks because he got it from Bulma.
Last updated on December 11, 2023
If you don't have enough zeni for a leather jacket, try this Trunks Cosplay Outfit.
In addition to the purple fabric version of the Capsule Corp Jacket, you also get the undershirt, pants, and boot covers. Don't forget the purple wig too.
Capsule Corp Bomber / Denim Jacket Patch
Last updated on December 11, 2023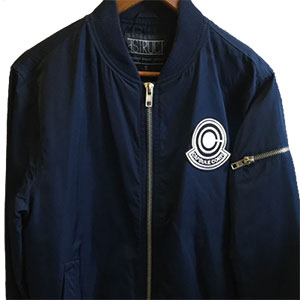 This is the best for everyday streetwear aesthetic.
Finding a bomber or denim style jacket is a little harder to find. You're probably better off just ordering a Capsule Corp patch and ironing or sewing it on yourself.
A patch is a good solution if you already have a jacket you want to use.
Capsule Corp Shirts
Future Trunks Capsule Corp Baseball Tee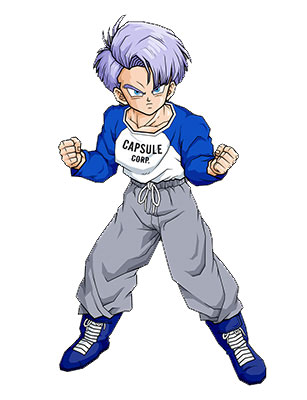 This is the Capsule Corp Baseball T-shirt in navy. It features CAPSULE CORP text across the front, full navy raglan sleeves, ribbed cuff, and collar, just like the one worn by future Trunks when he first turned super saiyan.

It's great for cosplay or even everyday streetwear. Don't give up hope. Represent Capsule Corp and stick it to the Red Ribbon Army.
Classic Capsule Corp Logo Shirt
Last updated on December 11, 2023
If you're just looking for the classic Capsule Corp Logo tee, this one is for you.
It's a very basic tee, but is great if you want that clean aesthetic look that other DBZ fans will notice.